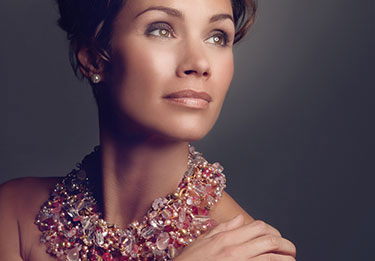 At The Pearl Dermatology our board certified dermatologists use fillers to help enhance and improve your natural features for a rejuvenated and rested appearance. Fillers, Botox, and Dysport are skillfully injected into both the face and body resulting in a softer, smoother more lifted look. Our goal is for you to continue to look like yourself, but simply a more refreshed version. What sets us apart is our doctor's advanced injection techniques and training. We strive to provide a comfortable experience for our patients in a relaxed environment so that they may be confident in their decision.
Neuromodulators (Botox & Dysport)
Botox and Dysport are the two most common neuromodulators made from a purified protein called botulinum toxin. Neuromodulators are some of the most studied drugs in the world and have been used cosmetically for the past 15 years with an extremely high safety profile. Botox and Dysport are injected into muscles in order to temporarily relax them and soften the wrinkles that are caused by the muscle's movement. The most common area injected is between the eyebrows, aka the glabella, which is responsible for creating frown lines. Forehead lines and crow's lines around the eyes are the second most common areas injected. At The Pearl Dermatology our highly trained physicians use advanced injection techniques to inject other areas on the face and neck to achieve beautiful and refreshed results. Injecting these neuromodulators requires skill and experience as unwanted results can give away your secret! Many patients fear the "Botox look", which is why having a skilled injector is so important.
Fillers
HA FILLERS
Most fillers are made from a natural sugar complex already found in our skin called hyaluronic acid (HA). There a variety of FDA cleared injectable fillers, each with their own unique characteristics and capabilities. These fillers include Juvederm Ultra, Juvederm Ultra Plus, Voluma, Restylane, Restylane Silk, Restylane Lyft, Restylane Defyne and Restylane Refyne. These fillers are used to lessen the appearance of fine lines, deeper wrinkles, and skin folds. We also use fillers to improve areas of volume loss such as the cheeks, lips, and under eyes. Our experienced physicians will tailor a plan, selecting the filler that is specific for you and your needs. Our doctors are experienced in injecting a combination of these products to achieve a natural look, always striving to avoid the "over done" look.
SCULPTRA
Sculptra Aesthetic is a collagen stimulating filler used to re-establish volume and structure in the face. This filler is composed of the same material found in many absorbable sutures and breaks down over time to water and carbon dioxide. The PLLA in Sculptra Aesthetic is comprised of tiny particles, which are suspended in sterile water to create a solution. Your doctor will inject Sculptra Aesthetic into the skin in a series of 3 to 4 treatments, each spaced a month apart. Gradually over the next few months, new collagen is created, improving the quality, structure, and lost volume. Our board certified dermatologists also inject Sculptra Aesthetic, in a so called "off-labeled" manner, on the décolletage, arms, thighs, abdomen, and buttocks to improve skin quality, crepiness, and wrinkles. The result is a beautiful restoration of volume that lasts up to two years and beyond.
QWO Cellulite Treatment
There are a multitude of ways women have tried to reduce their cellulite. With QWO, women and their aesthetic specialists can choose the first and only FDA-approved injectable available that treats cellulite in the butts of adult women. QWO is a non-surgical treatment clinically proven to reduce moderate to severe cellulite. Visible results may be achieved in 10 weeks! QWO works in 3 ways: releasing fibrous bands, redistributing fat cells, and stimulating the growth of new collagen.

Some women and their aesthetic specialists both agreed they noticed less dimpling after treatment with QWO. Results were assessed 28 days after the 3rd treatment! QWO has been studied in more patients than any other FDA-approved cellulite treatment, with over 1,800 women participating.

At your appointment, we will discuss treatment and expectations. After identifying the treatment areas, we will use a small needle to inject QWO. QWO injections take 10 minutes or less!
Kybella
Kybella (deoxycholic acid) injection is a FDA cleared, non-surgical treatment for submental fat, also called "double chin" in adults. Kybella is injected in a series of treatments every 1- 3 months and works by permanently dissolving unwanted fat. Over time, the fat is broken down and the contours under the chin are improved. We also use Kybella to treat small unwanted fat deposits on areas of the body, such as above the bra area. Finally, small irregularities caused by liposuction can be improved by Kybella too.
Sclerotherapy
Sclerotherapy is an injection treatment used to improve the appearance of unsightly leg veins. This procedure can be used for small spider veins, larger blue/green reticular veins, or bulging varicose veins. At The Pearl Dermatology we use Asclera (polidocanol), a sclerosing agent that is turned into a foam and then injected into reticular veins to treat the root of the problem. Often the larger veins are the cause of spider vein formation. In order to get the best result from sclerotherapy, most patients require a series of treatments with anywhere from three to six treatments.
Platelet rich plasma (PRP) treatment for hair loss
PRP is now widely accepted as a stand-alone or in-combination treatment for hair loss in men and women. PRP is mostly used to treat classic male pattern baldness and female pattern hair loss, but further studies may find it helpful in other hair loss conditions. PRP is the part of our blood that has the highest concentration of platelets. Classically, platelets are thought of for their ability to help stop bleeding and clot blood, but what many people do not know is that platelets also release many different types of growth factors into the blood. When we inject PRP directly into the scalp (where we have hair loss), these growth factors can act favorably in the hair follicle. There, they act as stem cells and can stimulate the growth of a new blood supply and therefore bring nutrients to the hair follicle, strengthening it, and leading to restoration of hair growth. The procedure involves a blood draw (one tube), which is done in our office at the time of the appointment. The tube of blood is then placed in a device called a centrifuge, which spins blood at a fast rate. The red blood cells sink the bottom of the tube leaving the plasma at the top. The portion of the plasma richest in platelets is then drawn up into a syringe for injection into the scalp. The actual injections take merely minutes to complete. Treatments are performed once a month for three months and then every six months after that indefinitely. If you choose to stop getting PRP injections, eventually your hair will revert back to the thickness it was prior to starting the treatments. This is true for ANY hair loss treatment as there is no cure for hair loss, just treatment, which requires maintenance. Your dermatologist may also advise you to take a specific hair growth vitamin or use a topical treatment in addition to PRP. Men may be advised to take oral finasteride (Propecia), as the more you do for your hair, the better your result will be.